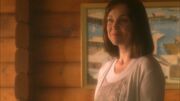 Sarah Mills (played by Sarah-Jane Redmond) was the wife of Charlie Mills and the mother of Abby Mills. Before the start of the series Sarah was in an abusive relationship with John Wakefield but eventually fled from him out of fear. She gave birth to hers and Wakefield's child Henry and give him up for adoption to the Dunn family.
Sarah made her way to Harper's Island and began a relationship with Sheriff Charlie Mills but Wakefield eventually managed to track her down. He tried to force her to leave with him, so Charlie had several of his deputies try to rough Wakefield up a bit. John attacked one of the men, Cole Harkin and cut him up pretty badly. Charlie had Wakefield charged with attempted murder and sent him to prison away from the island.
Sarah and Charlie eventually married and together they had a daughter named Abby. Sarah remained in contact with the adopted family of her son Henry and they started visiting the Island for the Summer when Henry and Abby where young children (most likely so Henry and Abby could have a relationship). Charlie never knew who Henry was or even that Sarah had a child with Wakefield.
17 years after Wakefield was arrested he returned to the Island, going on a killing spree and murdering six people, including Sarah. Wakefield broke into her house and dragged her into the woods where he hanged her from the tree of woe. Her daughter Abby discovered the body after she'd followed her mother's screams into the forest.
In a deleted scene in Episode 2, she was reveled to be a school teacher, who was an artist who would draw her students as told by Abby to Cal with both of them seeing a few examples in a building while going through town during the scavenger hunt.