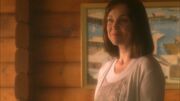 Sarah Mills (played by Sarah-Jane Redmond) was the wife of Charlie Mills and the mother of Abby Mills. She was killed by John Wakefield. In a deleted scene in Episode 2, she was reveled to be a school teacher, who was an artist who would draw her students as told by Abby to Cal with both of them seeing a few examples in a building while going through town during the scavenger hunt.
Ad blocker interference detected!
Wikia is a free-to-use site that makes money from advertising. We have a modified experience for viewers using ad blockers

Wikia is not accessible if you've made further modifications. Remove the custom ad blocker rule(s) and the page will load as expected.