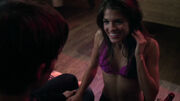 Stacy DeKnight (played by Marie Avgeropoulos) is a stripper seen in Episode 4 :"Bang" at Henry Dunn's bachelor party. It is shown and revealed that Henry knew her and her brother, Steve when they were kids, Henry finds it horrible to know this because he knew her when she was 10, even though Christopher "Sully" Sullivan thinks its awesome. It is shown later on with her flirting with a drunk Cal, with her telling him he has the most sexiest English accent. It is possible Stacy survived the Wakefield-Dunn killing spree, though her fate is not revealed on-screen; she may be among the "handful of locals" referred to by FBI Agent Hanson as having survived the killings.
Ad blocker interference detected!
Wikia is a free-to-use site that makes money from advertising. We have a modified experience for viewers using ad blockers

Wikia is not accessible if you've made further modifications. Remove the custom ad blocker rule(s) and the page will load as expected.